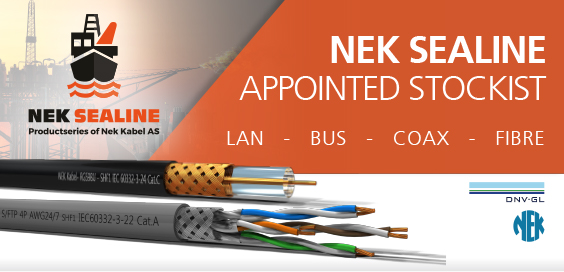 FSC Global is the appointed stockist and distributor for the NEK Sealine range of marine grade data, bus, coax and fibre cables for the UK, Europe and America, manufactured by NEK Kabel AS, Norway.
Designed for demanding offshore and marine installations, the NEK Sealine range incorporates the highest quality compounds. SHF1 sheaths are standard for use on yachts, boats and larger commercial ships. Heavy duty SHF2 sheaths are also available where the risk of oil and chemical exposure is high. For the ultimate solution against hydrocarbons, SHF2 MUD NEK 606 sheaths can be manufactured and supplied. These cables are Ideal for use on oil rigs and drilling ships and provide exceptional resistance to chemicals, UV, oils, cold temperatures and high pressures.
The NEK Sealine range is Third Party Approved by DNV-GL & ABS (American Bureau of Shipping) and is fully compliant with IEC standards so that you can be certain the quality, safety and performance requirements for your project are met. Third Party Approval Certificates are available on request.
All cables are stocked on bulk reels of 500m or 1000m and can be cut-to-length, stocked cables can be made available for same day despatch worldwide.
To view the full range of marine cables, follow the links below.