CPR Explained
Most cables within Europe, designed for permanent installation within domestic, residential and commercial buildings are now subject to the Construction Products Regulation (CPR), covered by BS EN 50575. This has now become a legal requirement across most of Europe, so it is important you understand how to stay compliant.
BS EN 50575 enables designers and installers to consider the contribution that cables make to the spread of fire. As cables run between rooms and floors or above ceilings and are often made from flammable materials, it's important that the fire risk can be assessed easily. They can also be a source of ignition if badly installed, damaged or faulty.
THE EUROCLASSES
The regulation classifies products into one of seven classes (see Table 1), in most instances, only five classes will apply to cables. Classes Fca and Eca undertake a basic vertical flame test to BS EN 60332-1-2. If there is a high level of flammability, it would be classified to Class Fca. However, for the cable to meet the requirements of Class Eca, the test has to be conducted with limited flammability by an authorised test house, known as a Notified Body (NB). Tests by NB's carry a significant cost. We have invested in equipment for testing to BS EN 60332-1-2. This enables us to understand how cables will perform and where appropriate, classify to Class Fca.
Each European state implements CPR at a national level which means the requirements change from state to another. Some countries are legislating specific classes for defined applications or environments while others such as the UK are leaving it to be a commercial decision by the building owner or specifier.
For more information on this, we suggest you consult with your national regulatory body.
Table 1: Summary of Euroclass test results for CPR-rated cables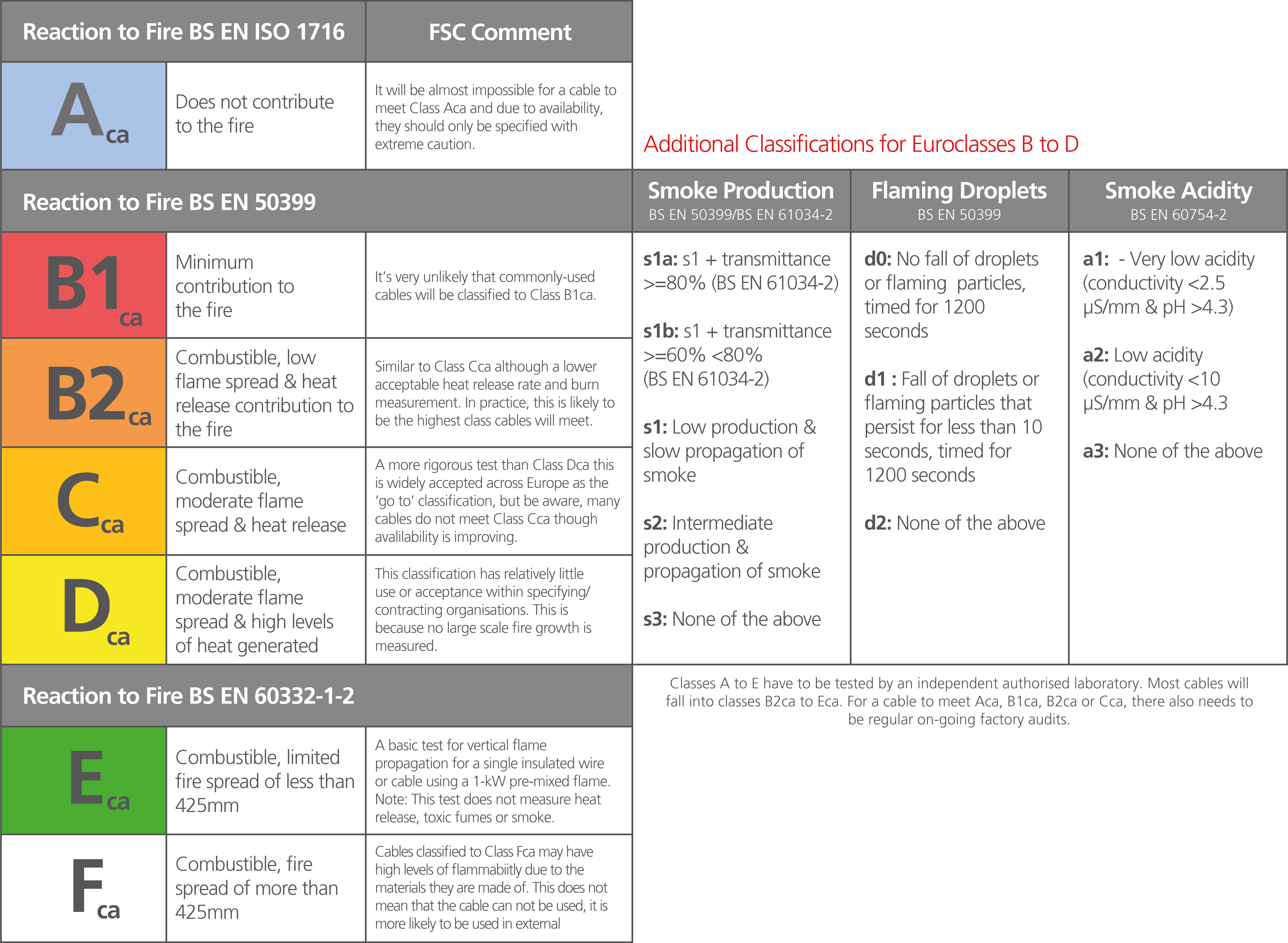 STAY COMPLIANT
So what can you do to stay compliant? CPR classified cables should have a Declaration of Performance (DoP) available. This document shows critical information such as manufacturer's name, product type and Euroclass.
By law, manufacturers or anyone importing cables from outside the EU need to keep records of CPR compliant cables sold and provide DoP documentation for up to 10 years after the date of sale. If you are purchasing FSC or Tru brand CPR compliant cable from FSC Global, you can easily download your CPR documentation at any time. Simply
follow this link
and enter the DoP reference from the cable drum label to download your Declaration of Performance certificate.
The cable itself does not have to be printed or embossed to show CPR compliance. However, the regulation is very clear that the packaging (usually a drum, spool or box) must carry specific information, almost always on a label. This will include the CE mark, DoP reference and unique product type. All FSC-marked cables carry a batch number to give full traceability regarding when and where the cable was made and also the materials used to manufacture that specific batch.
As part of the commitment to meet current regulations, FSC Global stock over 850 CPR-compliant cables including Alternatives to Belden, structured wiring, fibre, coax, signal & control and power cables. You can
view the full range here
or browse our CPR Compliant cable ranges below.
Browse Ranges